Mind Body & Soul offers a great service in Wellness Coaching to individuals who are looking for a way of create lasting behavioural change.
Wellness Coaching is an opportune way to move forward towards a new level of optimal health, fitness and wellness. We understand that total wellbeing extends well beyond the physical dimensions. The Mind Body & Soul approach is to develop a vision for wellness in multiple life areas. We help clients to identify obstacles and develop strategies to overcome them.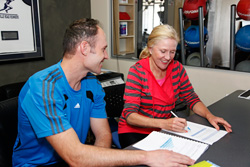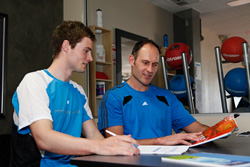 The empowering thing about Wellness Coaching unlike the 'expert model' is that we hand over responsibility for change to the client. With our guidance, you set your values and identify what is most important to you in life. In line with your values, we help you set about a plan that will guide you towards positive change in a number of key lifestyle areas. These areas may include nutrition, weight management, energy levels and associated sleeping patterns.
Our Team of health and wellness coaches have gained the necessary skills and certification to guide and inspire individuals through a client-centered process. Our aim is to facilitate and empower the achievement of self-determined goals in order to achieve positive and sustainable lifestyle change.
Wellness Coaching can be combined with Personal Training or Group Training to accelerate your results.
To discuss how Wellness Coaching can deliver lasting change and bring out your personal best Contact Us today!