Testimonials
What our clients are saying about us...
Aymee Mastaglia (Club 50 Gold Member)
'I've been coming to this gym for more than six years. This is unlike other gyms, in that the people who come here are normal, everyday people and not at the gym to 'be seen'. Brett does a great thing called 'Club 50' where you pay a certain amount every month and are entitled to come to any group session which is like having a personal training session - the groups are small and the trainer is always on hand to advise and help out. This means I can do 4 group sessions a week and it's not too expensive! I think there is a choice of 14 or 15 sessions a week, too, so it fits into all schedules. Once you have been coming for a while, the group sessions are like catching up with your little 'family' as you get to know the regulars. If you want to work out in a friendly and safe environment with some great people, you should try this place!'
Kerry Job (Club 50 Gold Member)
'I've been a member at Mind Body Soul for about 2 years now, and can't speak highly enough about Brett and the team. MBS provides friendly, personal, motivational service which goes far beyond fitness. In tough times, exercising at MBS has kept my spirits up, through both the exercise and the amazing people I've met. Brett, Cheriese and Rosemarie have such in depth knowledge of their field, and have helped me to integrate exercise into daily life. They also mix things up to keep me motivated, and are always up for a challenge if we are working towards a particular fitness goal. I certainly can't think of anywhere else that offers the same service, and would recommend MBS to all.'
Cherelle Witney (Personal Training Member)
'When I moved to Palmyra I was looking for a personal trainer to keep my mind stress free and my body healthy.  I've done a lot of PT over the years and wanted a trainer who was knowledgeable and willing to customise each of my training sessions to my needs and abilities.  I was lucky enough to find Brett at Mind Body & Soul Fitness Studio.  His training approach is always positive, realistic and encouraging.  Each week's PT  is different and challenging.  Every 30 minute session leaves me feeling proud of my achievements, more energetic, confident and happy.  I have achieved great muscle toning results and i'm now much stronger and healthier.  Thank you!'
Robin Judd (Club 50 Gold Member)
'I have been a member of MBS Fitness Studio for 6 years and the experience has been fantastic for me in many ways. Firstly losing weight (combined with a healthy diet), reducing body fat %, increasing cardio fitness, toning and then strengthening muscles generally. I recently started running and with the help of MBS trainers Brett and Rosemarie, successfully completed the 12 km HBF Run for a Reason. Running is something I never thought I'd do just for fun! With a few Personal Training sessions Brett Smith has helped me develop a good running technique and shown me drills and training for better running results. Increased fitness and regular cross training sessions have improved my general health and well-being. I recommend MBS as more than just a gym or cross training studio.'
Amanda Millsom-May (Club 50 Gold Member)
'I have been a group training member for over 6 years and my daughter has been coming to Saturday classes for 4 months. Brett, Rosemarie and Cheriese are very experienced and dedicated trainers and the classes are always fun and the mix of cardio and weight training is fantastic. I love that no matter what age you are or level of fitness you can fully participate in the group training sessions. I have made many friends through the gym and this is one of the reasons I keep coming back year after year. It is like being part of a big family!'
Bianca Shuttleworth (Club 50 Gold Member)
I've been a member of Mind Body & Soul since I moved to the area in 2013. The group training sessions have kept me motivated as they are always different so you never get bored! Brett, Rose & Cheriese are some of the best trainers I've ever encountered and most of all I've made some fabulous friends. The atmosphere at the gym is welcoming and they cater to your fitness level. I've had an injury and the team always modify the exercises to cater for the injury. I highly recommend Mind Body & Soul to everyone!
Karen Johnson (Club 50 Gold Member)
'I just want to say a big Thank you for all your support and encouragement over the last year.  Mind Body & Soul has played a big part in my success and consistency.  Thanks for the great sessions you provide us with...honest staff, with no judgement- only encouragement.  It's a credit to you all...'
Emily Houston (50 Day Challenge- Gold Medal Winner)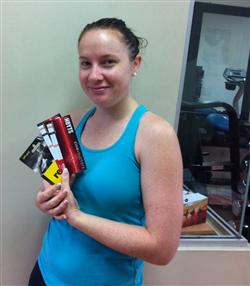 The 50-Day Challenge came at the perfect time for me...I had been carrying a few extra kilos and had reached the point where I was determined to lose them.   I was in the right frame of mind going into the challenge.

I managed to lose just under 5kgs and build some muscle which I have managed to maintain since the completion of the challenge. Since I work away (FIFO),  the majority of the training was completed on my own, however knowing I had a Friday weigh-in at the gym and the ongoing support of the Mind Body & Soul Fitness Team it kept me very motivated. 


I feel so much more confident being those few kilos lighter and more muscular & toned than I was before. I go to the gym or do some form of exercise most days now, as well as eat as healthy as I can- and I'm really enjoying it!
I am now training for Tough Mudder in October alongside Mind, Body and Soul's trainers Cheriese and Rosemarie. I hope to gain more strength - especially upper body - and am happy to lose a few more kilos in the process.

Emily Houston was the winner of our inaugural 50-Day Challenge, held February - April 2013. 
*The 50-Day Challenge provided our clients with a great opportunity to focus on their fitness, health & wellness goals, whilst receiving ongoing education and  support to achieve positive outcomes.

Emily Randall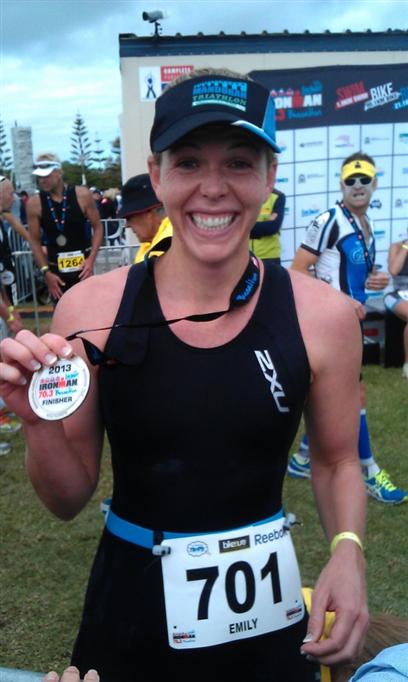 After having my third baby in as many years, it was definitely time for me to rediscover my fitness and lose some excess weight...when I discovered Mind Body & Soul I weighed 88kg and 15 months later I weigh 66kg!
I started fitness training with Mind Body & Soul in March 2010, commencing with Boxing for Fitness and Group Training workouts.  These provided plenty of variety and the flexibility of the different sessions proved perfect for working around the family timetable. I love that everyone can work to their own fitness levels, the supervision and small group numbers makes it an ideal environment to push yourself and work on key areas. Brett has definitely given me so much help, confidence and support to follow all these goals through to becoming reality. I feel so lucky!
I took up the challenge of the City to Surf RunFit program and absolutely loved it! Since this time I have done the Perth Mud Rush (August 2012); Tough Mudder Sydney (September 2012); Rome Marathon (March 2013, picture below) and Busselton Half Ironman (May 2013, picture above). These are all things I  never imagined ever doing, but with the support and expertise that Brett and the team offer, I know I can do it.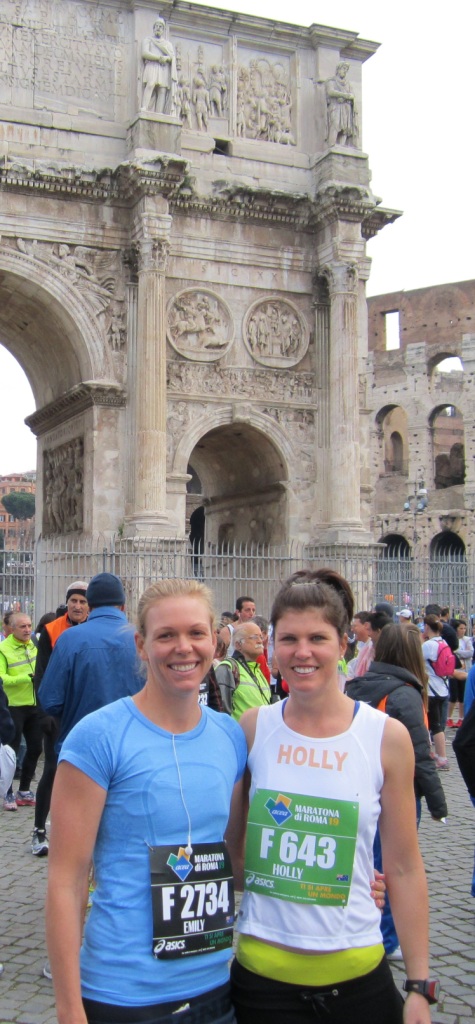 The atmosphere at Mind, Body & Soul is always fun and casual, which is what I value most. It wasn't long until I had my husband coming along too. We really love training together a few times a week and Steve did the Mud Rush and Tough Mudder with me last year.
When I walked in to Mind Body & Soul Fitness Studio to do my first session in March 2010 I weighed 88kg, now I weigh 66kg and feel alive! I do feel like I have so much more energy, not only to exercise, but also to run around and play with the kids.
My next fitness goal is only limited to my imagination, but I think I will try the full Ironman WA in December 2014. This is twice the distance of my last effort, so it will be double the fun!
Emily continues to go ahead in leaps and bounds with her fitness and endurance- in the May 2013 Half Ironman, as competitor #701 she managed the following times:
1.9 KM SWIM = 28 min 34 secs
90.1KM BIKE = 2 hours 58 min
21.1KM RUN = 2 hours 5 min
TOTAL TIME: 5 hours 38 min
What an inspiration!
Ewan McGregor - A Cameo Performance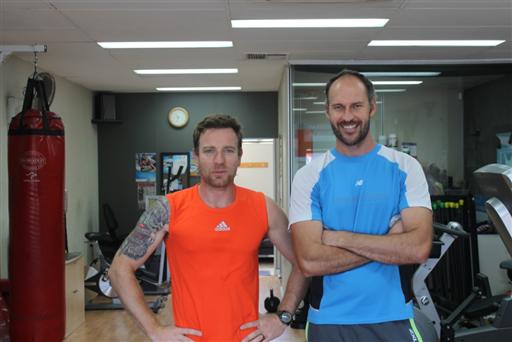 We were lucky enough to welcome Ewan McGregor to the Mind, Body and Soul family for a couple of months. Ewan was in Perth filming Son of a Gun and stayed in shape with some Personal Training sessions with Brett. Ewan was looking for somewhere convenient to train that was a personal training centre, rather than a gym. Ewan thanked us with some kind words in the Twitter-sphere - "Brett. Thanks for all the sessions in your gym. What a great place to work out. Thanks for the Footie game too. Cheers mate". Ewan's Mind Body and Soul experience also featured in an article for The West Australian newspaper.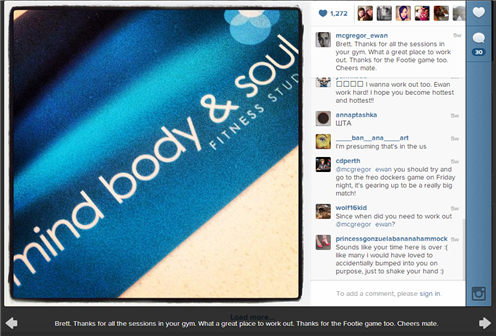 Claire Werner
I often say to clients of mine who comment on how well I'm looking, "go and see Brett, he won't break you", and he won't.  Brett gently introduces a variety of exercises to keep me interested and has gradually increased the intensity, as I have become fitter.

I feel very strong and healthy, as I mix my training between Club 50 group sessions with my own personal training sessions.  I think the mix of trainers and session types has been really positive and made a huge and very noticeable difference to my fitness as well as general well-being. I can see a huge difference in my fitness and strength. This year is the very first time I have ever been able to do proper toe push-ups. Even when I was very fit before, I have never been this strong. 

I feel very positive about achieving my fitness goals. 2013 is the year for me to finally achieve my goal weight loss and then tackle the long held fantasy of running a half marathon. It is great that my success so far means that I have the energy to focus on those goals.

In the last 4 months until June 2013 I have lost 14 kg and the best bit is that in this time I lost 61 cm from my body.  I have combined my training with a healthy eating regime and I am now 24 kg down from when I first saw Brett.  All the trainers have been really supportive and encouraging while I have been doing this. 

Life means I don't always manage to keep everything in balance, but I certainly have the awareness and the tools that I need now. I find it hard to imagine where I would be today if I hadn't made that call. Thank you Brett!